8th April 2019
April got underway boosted by economic data which reinforces our Goldilocks view (reasonable economic growth and lacklustre inflation).
Chinese PMI data last Sunday (31 March 2019), suggests that recent policy stimulus is helping to stabilise their economy. Chinese manufacturing PMI returned to expansion in March, rising to 50.5 from 49.2 in February – the biggest monthly jump since March 2012. Additionally, readings above 50 signal expansion – and given China is the world's second largest economy, this should help allay concerns about a slowdown in global growth.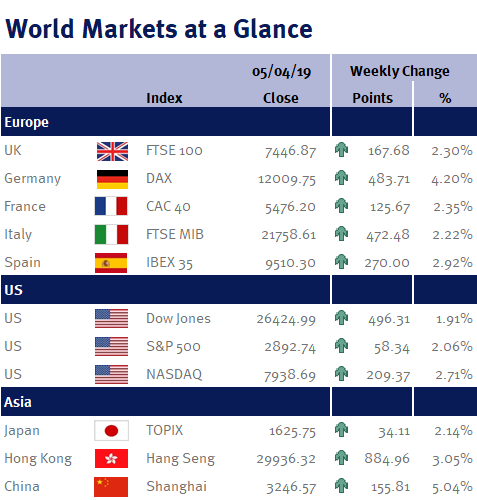 There was a similar positive story in the US, with the ISM index rising to 55.3 in March. This indicates that US manufacturing is also rebounding, as February's reading of 54.2 was the lowest reading since November 2016.
There was some good news and some bad news on US retail sales: January's numbers were revised up (to 0.7% from 0.2%), but February's figures were poor, with the overall value of sales declining by 0.2%. Given the US consumer accounts for over two-thirds of the US economy, this clearly puts more pressure on the Fed to start reducing US interest rates.
Furthermore, while the US economy added 196,000 workers in March which may help support future consumer spending, wage growth slowed to 3.2%, suggesting US inflation is likely to remain muted.

Additionally, US/China trade talks resumed this week and both sides indicated that they are nearing a deal that Donald Trump and his Chinese counterpart, Xi Jinping, will be able to sign in the not too distant future.
In the UK, political analysts will no doubt find plenty to pore over with this week's Brexit developments. However, in summary, at the time of writing, it looks like we may be inching closer to a soft Brexit.
This coming week, all eyes will be on the minutes from the last Fed monetary policy meeting (held on 19 & 20 March 2019). Additionally, we have Israeli elections and data-wise, we have US and Chinese CPI inflation; UK GDP; and an ECB monetary policy meeting.
Investment Management Team