4th March 2019
As we speculated three weeks ago (please see here), Donald Trump this week said he would delay implementing US tariff increases planned for today (Friday 1 March 2019) as the US and China continue to progress their negotiations for a new trade deal.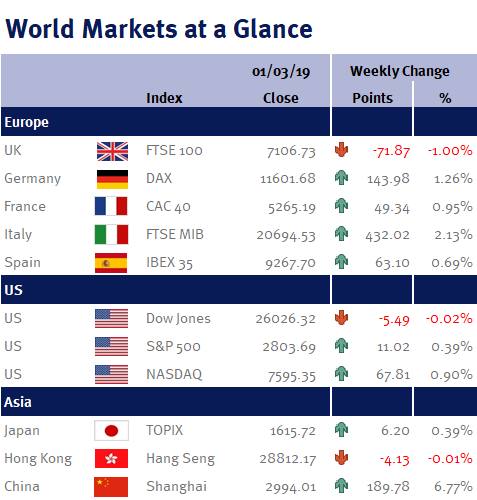 Consequently, global equity markets rose (with Chinese equities leading the way) reflecting the fact that the uncertainty surrounding global economic growth is diminishing – the US and China are the world's two largest economies. And as we have said before, with Presidential elections next year, the White House obviously has an incentive to reach a quick compromise.
The pound led the moves in the currency markets, jumping on a potential delay to Brexit.
While we understand that a Brexit delay is supportive for the pound (as it potentially reduces the threat of a no-deal Brexit), its strength looks more like the triumph of hope over experience as it doesn't do anything to end the pantomime and uncertainty that is weighing on the UK economy as we don't know what a delay leads to. The delay could simply push decision day back from the end of March to the end of June.

And remember, what is good for the pound is bad for the FTSE-100, as it lowers returns for exporters and the value of overseas earnings – hence why the FTSE-100 ended the week 1% lower.
Interestingly, if Theresa May can't get MPs to approve her Brexit deal with the EU by Tuesday 12 March 2019, she will put the idea of a no-deal Brexit to Parliament the following day, Wednesday 13 March 2019 – which is also currently scheduled to be the date for the Chancellor of the Exchequer, Philip Hammond's, Spring Statement. However, as it is not a full fiscal statement (and should therefore be reasonably short), we assume it could still go ahead – and anyway, moving it now would signal that the government is accepting Theresa May will lose her vote on the Tuesday!
Next week we have the Fed's Beige Book; US employment data (non-farm payrolls; unemployment rate; the participation rate; and average earnings); and an ECB monetary policy meeting.
Investment Management Team