18th February 2019
The improving prospects for a US/China trade deal and an agreement to avoid another US government shutdown allowed global equity markets to chalk up some pretty good returns this week.
As we speculated last week (please see here), Donald Trump said on Tuesday (12 February 2019) that he is open to extending the 1 March 2019 deadline for higher tariffs as the two sides are making progress on a new trade deal.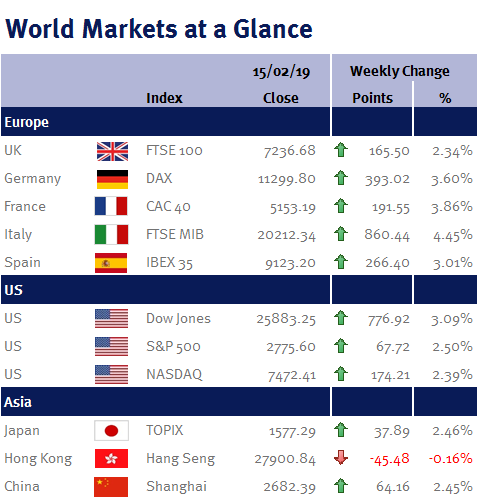 As for Donald Trump's border wall demands, although he will only get $1.375bn of the $5.7bn he wanted, he was receptive to signing a deal reached by congressional negotiators as it avoids another government shutdown. While this would suggest that he thinks an imperfect deal is better than a no deal, today (Friday 15 February 2019) he declared a national emergency in order to redirect funds from other parts of the government, which will allow him to build his proposed border wall.
Data wise, a disinflationary trend appears to be setting in across the globe thanks to lower energy prices: in the US, headline CPI inflation fell from 1.9% to 1.6% (its smallest annual gain since June 2017), which underscores the Fed's recent dovish comments on being patient with future interest rates increases as well as our long held view that this will be one of the loosest tightening cycles ever (i.e. one that sees a very shallow path of interest rate increases with the high point for interest rates well below historic averages). Likewise in the UK, CPI came in at 1.8% compared with 2.1% in December; while in China CPI fell to 1.7% from 1.9%.

UK GDP data showed the economy grew by 0.2% in the fourth quarter (down from 0.6% in Q3) and 1.3% for the whole year. The slowdown was mainly caused by businesses cutting investment. And while it could be argued that Q4 growth of 0.2% is actually very good given all the Brexit uncertainty, we often find ourselves wondering about the counterfactual: where would the UK economy be had the UK voted 'remain' on 23 June 2016?
On the subject of Brexit, the media has been busy speculating that Article 50 will be extended after Olly Robbins (Theresa May's chief negotiator) was overheard in a Brussels bar discussing strategy. While we think it is almost inevitable that Article 50 will be extended, we believe a Brexit extension will be of very little benefit unless it is accompanied by some meaningful progress on our future relationship with the EU (i.e. trading agreements), otherwise business confidence (and therefore investment) is unlikely to recover, as pushing out our departure date simply prolongs the uncertainty.
Fed minutes will dominate my week ahead (released on Wednesday 20 February 2019), as we are keen to see exactly why the US central bank signalled a more dovish tone on interest rate policy.
Elsewhere, we have UK employment data (unemployment rate, weekly earnings) and eurozone CPI.
Investment Management Team*
* The latest market updates are brought to you by Investment Managers & Analysts at Wealth at Work Limited which is a member of the Wealth at Work group of companies.